Sobre nosotros
Restaurante Chino Lee´s te ofrece la más exquisita variedad de China que puedes encontrar en Fuengirola. Ven a visitarnos o haz tu pedido online. Verás como te sorprenderemos con nuestras especialidades.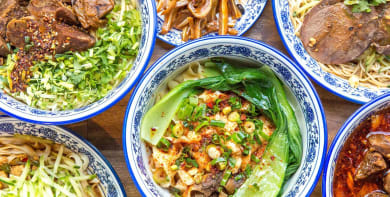 Opiniones
122 comentarios
Gema
"Muy rica."
18/09/2022
Delfina
"Muy bueno todo. El repartidor muy agradable. Todo estaba perfecto."
15/09/2022
Fiona
"The driver had trouble accessing the building but was very patient and polite even though it delayed him"
11/09/2022
Yolanda
"Perfecto, volvería a pedir otra vez"
02/09/2022
Menú
Menú Para 1 Persona
Rollo, sopa de pollo o ensalada china + Arroz o tallarines + Pato a la naranja, piña o langostino chopsuey
Springroll, soup or Chinese salad + Rice or noodles + Duck orange, pineapple or prawn chopsuey
9,95 €
Menú Para 2 Personas A
Rollo de primavera (2) + Tosta de gamba + Ternera con setas y bambú + Cerdo agridulce + Arroz tres delicias
Springroll (2) + Prawn toast + Sweet and sour pork + Beef with Chinese mushrooms and bamboo + Rice 3 delights
18,50 €
Menú Para 2 Personas B
Sopa de pollo (2) + Pato Pekín + Cerdo agridulce + Pollo almendras + Arroz tres delicias
Chicken soup (2) + Pekin duck + Sweet and sour pork + Chicken with almonds + Rice 3 delights
27,50 €
Menú Para 3 Personas A
Rollo primavera (3) + Costilla asada + Ternera con bambú y setas + Langostino sha cha + Cerdo agridulce + Arroz tres delicias
Springrolls (3) + Crispy spareribs + Beef with muxhrooms & bamboo + Prawn sha cha + Chicken with almonds + Rice 3 delights
29,50 €
Menú Para 3 Personas B
Sopa de pollo (3) + Pato Pekín + Langostino ajillo + Ternera con bambú y setas + Cerdo agridulce + Arroz tres delicias
Chicken soup (3) + Pekin duck + Garlic prawns + Beef with mushroom & bamboo + Sweet & sour pork + Rice 3 delights
42,50 €
Menú Para 4 Personas A
Rollo de primavera (4) + Costilla asada + Pato a la naranja o piña + Pollo curry + Cerdo agridulce + Ternera con bambú y setas + Arroz tres delicias (2)
Springrolls (4) + Crispy spare ribs + duck orange o pineapple + Chicken curry + Sweet & sour pork + Beef with Chinese mushrooms and bamboo + Rice 3 delights
45,00 €
Menú Para 4 Personas B
Sopa de pollo (4) + Pato Pekín + Langostino ajillo + Pollo con almendras + Ternera picante estilo Thai + Cerdo agridulce + Arroz tres delicias (2)
Chhicken soup (4) + Pekin duck + Galirc prawns + Chicken with almonds + Beef with Thai spicy sauce + Sweet & sour pork + Rice 3 delights
52,50 €
Menú Para 6 Personas
Rollo primavera (6) + Costilla asada + Chop suey de verduras +  Pato Pekín + Cerdo agridulce + Familia feliz + Pollo con almendras + Ternera picante estilo Thai + Langostino al ajillo plancha + Arroz tres delicias (3)
Springrolls (6) + Crispy spare ribs + Chop suey vegetables + Pekin duck + Sweet and sour pork + Happy family + Chicken with almonds + Beef with Thai spicy sauce + Garlic prawns + Rice 3 delights
75,00 €
Sopa de Wan-Tun
Wanton soup
3,60 €
Sopa Pollo con Fideos
Chicken noodles soup
3,00 €
Sopa Agripicante
Hot and sour soup
3,20 €
Sopa Maíz con Cangrejo
Sweetcorn crab meat soup
3,20 €
Ensalada China
Chinese salad
4,00 €
Ensalada con Gambas
Prawns salad
4,50 €
Ensalada de Soja
Bean sprout salad
3,70 €
Rollo Primavera
Spring roll
1,60 €
Rollo Vietnam, 2 Unidades
Springrolls Vietnam
2,80 €
Wan-Tun Frito
Crispy Wantun
3,80 €
Costilla Asada
Crispy spareribs
6,20 €
Costilla con Sal y Pimienta
Salt and pepper spareribs
7,00 €
Entremeses Variados
Mix starters
7,80 €
Alita de Pollo
Crispy chicken wings
5,20 €
Pollo Pinchito Sate, 3 Unidades
Chicken kebab sate
6,00 €
Algas Fritas
Crispy seaweed
4,80 €
Langostinos Rebozados
Prawns in fluffy batter
6,80 €
Dim Sum Si Xi Jiao, 4 Unidades
Dim Sum Si Xi Jiao
4,50 €
Dim Sum Siu Mai, 4 Unidades
Dim Sum Siu Mai
4,50 €
Dim Sum Xia Jiao, 4 Unidades
Dim Sum Xia Jiao
4,50 €
Tosta de Gamba
Prawns toast
4,50 €
Arroz Tres Delicias
Fried rice three delicias
3,90 €
Arroz con Huevo
Egg fried rice
3,00 €
Arroz con Gambas
Prawns fried rice
4,60 €
Arroz Yangzhou
Yangzhou fried rice
4,80 €
Tallarines Tres Delicias
Fried noodles three delicias
5,00 €
Tallarines Pollo
Fried noodles with chicken
4,20 €
Tallarines Gamba
Fried noodles with prawns
4,80 €
Tallarines Especiales de la Casa
House special noodles
6,50 €
Fideos de Arroz con Pollo
Fried rice noodles with chicken
5,60 €
Fideo con Langostino
Fried rice noodle with prawns
5,80 €
Fideo Singapur
Fried rice noodle Singapour style
5,80 €
Pan Chino
Fried chinese bread
1,60 €
Patatas Fritas
Fried chips
2,80 €
Pollo Curry
Chicken curry
5,40 €
Pollo Salsa Picante
Chicken chili sauce
5,40 €
Pollo Crujiente Estilo Hong Kong
Crispy chicken Hong Kong
5,80 €
Pollo Seta y Bambú
Chicken mushroom and bamboo
5,50 €
Pollo Champiñones
Chicken mushroom
5,40 €
Pollo Agridulce
Chicken sweet sour
5,40 €
Pollo Judía Negra
Chicken black bean
5,80 €
Pollo Almendras
Chicken almonds
5,40 €
Pollo Limón o Piña
Chicken lemon or pineapple
5,40 €
Pollo Chopsuey
Chicken chopsuey
5,40 €
Cerdo Agridulce
Sweet and sour pork
5,40 €
Cerdo Asado Salsa Jengibre
Roast pork ginger sauce
6,00 €
Cerdo Chashao
Chashao pork
6,00 €
Ternera con Salsa de Ostras
Beef oyster sauce
5,60 €
Ternera con Setas y Bambú
Beef mushroom and bamboo
5,70 €
Ternera Curry
Beef curry sauce
5,60 €
Ternera Crujiente Picante
Beef crispy spicy
6,20 €
Ternera Picante
Beef chili sauce
5,60 €
Ternera con Champiñones
Beef mushroom
5,70 €
Ternera con Pimiento y Judía
Beef black bean sauce
6,00 €
Ternera con Cebollas
Beef onion
5,60 €
Ternera Chop Suey
Beef chop suey
5,60 €
Langostino con Salsa de Ostra
Prawns oyster sauce
7,20 €
Langostino con Salsa Agridulce
Prawns sweet and sour
6,80 €
Langostino con Seta y Bambú
Prawns mushroom and bamboo
7,20 €
Langostino Curry
Prawns curry
7,20 €
Langostino con Champiñones
Prawns mushroom
7,40 €
Langostino Picante
Prawns chilli sauce
7,20 €
Langostino Sal y Pimienta
Salt and pepper prawns
7,50 €
Langostino Chopsuey
Prawns chopsuey
6,80 €
Pescado con Salsa China
Fish with Chinese sauce
6,80 €
Pescado con Salsa Agridulce
Fish sweet & sour sauce
6,80 €
Pato con Cebolleta y Jengibre
Duck with springonion & ginger
12,50 €
Pato con Seta y Bambú
Duck mushrooms and bamboo
12,50 €
Pato con Naranja o Piña
Duck orange or pineapple
12,20 €
Chopsuey Salteada
Chopsuey
4,50 €
Brote de Soja
Bean sprouts
4,80 €
To-Fu con Salsa Picante
To-fu spicy sauce
5,90 €
Bambú y Seta China
Chinese mushrooms and bamboo
5,20 €
Brócoli Salteado
Stirfried brocoli
5,00 €
Kuba Tres Delicias
Crispy rice three delice
7,00 €
Kuba con Langostino
Crispy rice prawns
7,00 €
Pollo con Sal y Pimienta
Salt and pepper chicken
6,00 €
Pollo Cebolleta y Jengibre
Chicken springonion and ginger
7,00 €
Ternera Cebolla y Jengibre
Beef springonion and ginger
7,00 €
Pollo con Pimienta Negra
Chicken  black pepper sauce
6,80 €
Ternera con Pimienta Negra
Beef black pepper sauce
7,00 €
Familia Feliz
Happy family
7,00 €
Langostino Ajillo
Garlic prawns
8,00 €
Langostino Sha Cha
Prawns in Sha Cha sauce
8,00 €
Pollo Sha Cha
Chicken in Sha Cha sauce
6,80 €
Ternera Sha Cha
Beef in Sha Cha sauce
7,00 €
Pollo Picante Estilo Thai
Chicken Thai spicy sauce
6,00 €
Ternera Estilo Picante Thai
Beef Thai spicy sauce
6,20 €
Langostinos Estilo Picante Thai
Prawns Thai spicy sauce
7,20 €
Vino Rioja de la Casa Antaño
6,00 €
Contacta con nosotros
Encuéntranos
Calle Molino De viento,1, Fuengirola, 29640
Horario de apertura
Por favor, ten en cuenta que el tiempo de entrega puede variar
Realizamos entregas en
29640, 29651